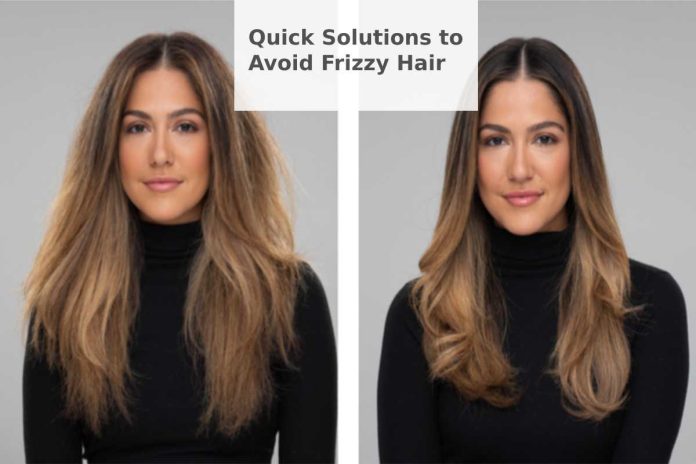 Many women feel the need to find some solution to avoid frizzy hair. Although it is not a serious problem, it is very annoying for those who want to wear silky hair with perfect hairstyles.
As a solution to frizz, the cosmetic industry has developed a wide variety of products that help minimize it. However, their main drawback is that some are very expensive or only give good results during the first hours of use. For this reason, some ingredients of natural origin have been becoming popular for some time that, due to their properties, help to control it effectively, with a 'plus' of benefits for hair health.
Still not you tried? On this occasion, we want to share in detail the best alternatives so that you do not hesitate to incorporate them into your regular beauty routine.
Why Does Frizzy Hair Occur?
Frizzy hair or effect "frizz" occurs for a demonstration of static electricity that occurs when the hair is charged anion, ie negatively charged. Consequently, the hair fibers reject each other. Therefore, the result is that unruly and messy look that can make hairstyles difficult.
In many cases, this symptom also shows a deficit of moisture and natural oils. Consequently, the alteration of the activity of the sebaceous glands or low absorption of nutrients can derive from this situation. This is because the outer layer of the cuticle becomes "rough", making the strands more porous. Consequently, the moisture molecules in the air adhere more easily to the hair, deriving this reaction.
Risk Factor's
People who suffer from excess dryness in their hair are the ones who have the most disadvantages to avoid frizzy hair. However, in addition to the lack of oils, there are other factors that are related:
Excessive use of dyes and bleaching products.
Use of inappropriate shampoo and products.
Fatty acid and protein deficiency.
Constant use of dryers, irons and any element of heat.
Prolonged exposure to the sun and the breeze without protection.
The Best Natural Solutions To Avoid Frizzy Hair
First of all, the regular application of some natural solutions can help avoid frizzy hair at those times when it looks dry and electrified. These solutions, unlike many commercial gels and creams, do not alter oil production or cause dandruff.
Apple vinager
Considered one of the best natural conditioners, apple cider vinegar is an ideal remedy to avoid frizzy hair. Its nutrients soften and flatten the cuticles to diminish that "electric" aspect.
How to use?
Combine equivalent parts apple cider vinegar with water and pour it into a spray bottle.
Spray the product on damp hair and leave it on for an hour.
Afterwards, rinse the hair with cold water to reduce its porosity.
Coconut milk
Rich in fatty acids, amino acids and antioxidant compounds, coconut milk is a natural product that revitalizes dry manes . Its topical application rehydrates the roots and leaves the strands silky and without porosity.
How To Use It?
Heat a small amount of coconut milk (whichever you consider appropriate for your hair volume).
When it is warm, distribute it from the roots to the tips, with the help of a sprayer.
Cover the hair with a spray cap and leave the product to act for an hour.
After this time, rinse with your regular shampoo and let it air dry.
Repeat its use up to 2 or 3 times a week.
Argan Oil
Argan oil has stood out in the beauty routine thanks to its contributions of vitamin E. Thus, this nutrient serves to alleviate excess dryness of the hair roots. In addition, it provides deep hydration to the hair strands.
How to Use?
If your goal is to avoid frizzy hair, apply a few drops of the oil to damp hair, from the center to the ends.
If you want, rub a little into your dry hair when your hair is too frizzy.
Avocado
This prodigious fruit is still one of the protagonists of hair remedies. Its wealth of fatty acids, proteins and vitamin E makes it one of the best solutions to avoid frizzy hair and dryness.
How to Use?
First, mash a ripe avocado and spread the paste all over the hair.
Then let it work for 45 minutes and rinse.
Thereafter, repeat its application 3 times a week for best results.
Sweet Almond Oil
In addition to having a very pleasant aroma, sweet almond oil is full of nutrients that strengthen hair. Its fatty acids reduce dryness and stop the appearance of that frizzy appearance.
How to Use?
Put only some drops of oil on the palms of your hands and rub them into damp hair, from the center to the ends.
Then d éjalo dry without rinsing for it to take better effect.
Use it 2 or 3 times a week.
Trying to style your hair but it's too unruly? Do you go outside and immediately look electrified? Say goodbye to this problem! Try any of the solutions mentioned and see for yourself its benefits.
Also Read: WHAT IS THE BEST MOISTURIZING BODY WASH? – ABOUT, AND EXAMPLES